Favorite Educational Toys Part 2
12 months:
We Love toys that can build up skill.
I was looking forward to toys that could teach words and also be used as an activity.
Also as I was researching on ways to help my little one with speech ,following are some toys that I found used by many speech therapists to teach simple words.
1.Shape sorters:
My little one loves shape sorters.This happens to be his favorite toy.
It has 5 shapes(Star) and 5 colors(Red Triangle).
The use of repetitive blocks also builds up memory. eg: Circle,Another Circle.
We also love to stack up the blocks and push them down.
(Fisher-Price Baby's First Block)
2.Cause and Effect Toys:
Teaching cause and effect which is an important milestone is a great learning.Ball Toys are usually designed with this purpose."BALL"happens one of the easiest toddler first words.
Wheres the ball?DOWN.
Any other cause and effect like cars through race tracks are also great learning tools.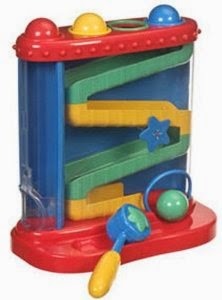 (DISCLAIMER: This blog is not for profit. All images used are property of their respective companies unless stated otherwise. I do not claim ownership of this material. )