The All famous Indian Biryani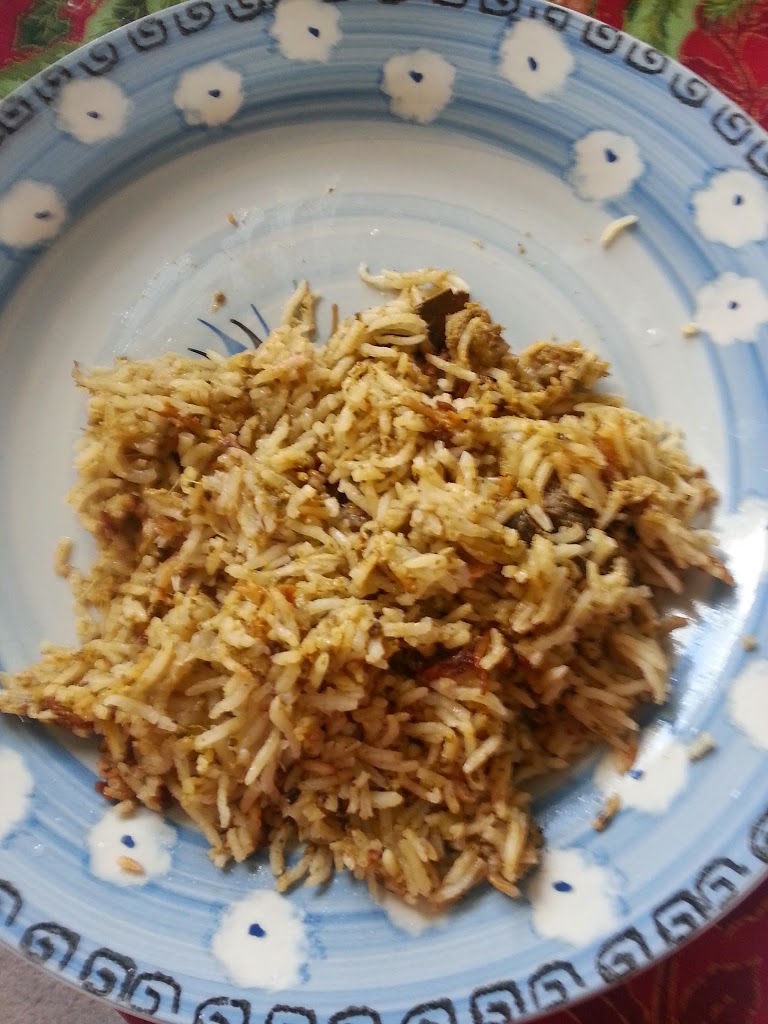 Biryani is an Indian festive dish.You would always find this in an indian restaurant or if you were invited to an Indian friend's house.This is an aromatic simply delicious easy to prepare dish.This Dish is prepared in various ways, each household has their very own version of the biryani.I ll be sharing my mom's 🙂
I know it looks like a lot of ingredients but once you keep them all at hand before you begin,you'll be amazed how quickly you can make this dish.
Ingredients:
1 Bay leaf
3 tbsp ghee(otherwise known as clarified butter) or oil(I prefer ghee)
1 Onion Minced
3 medium sized roma tomatoes Minced
1 tbsp Ginger garlic Paste(You can but this at an Indian store)
or
Grind 10 garlic cloves and 1 inch ginger in a food processor to make a thick paste ,do not add too much water (I prefer to make it myself,the freshness does make a huge difference)
1 handful of coriander leaves
1 handful of mint leaves
1/4 deseeded green bell pepper
2 green chillies
2 cups of basmati rice,
1 cup coconut milk,
1 tbsp curd(optional)
3 tbsp lemon juice(optional)
2 cups Water
5 -1 1/2 cm cinnamon sticks,
5 cloves,
5 green cardamom,
1/2 tsp poppy seeds<alternative cashews>,
1 tsp fennel seeds
1/2 tsp cumin powder,
2 tbsp coriander,
1/4 tsp turmeric powder
2 tsp chilli powder (adjust as per taste)
500 gms Chicken
Procedure:
To Make Dry Powder:
Grind cinnamon sticks,cloves,green cardamom,poppy seeds(if using cashews grind them separately),fennel seeds and set it aside.
To Make the wet ingredient:
Grind coriander leaves,mint leaves,deseeded green bell pepper,green chillies with little or no water and set it aside.
1.In the pressure cooker,add ghee/oil
2.Add Onions,grinded dry powder,bay leaf saute for 5 mins or till the onions become tender.
3.Add Ginger Garlic Paste and saute for 4 mins or until the raw smell disappears
4.Add the grinded wet ingredient mixture and saute for 2 mins.
5.Add the tomatoes and cook for 5-7 mins or until you do not see a trace of them
6.Add the cumin powder,coriander powder,turmeric powder,chilli powder and saute for 2 mins.
7.Add the chicken,mix well with the cooking marinade and close the pressure cooker lid.
8.Once the steam comes in full speed,add the weight and cook for 10 minutes then switch off the flame.
9.Once the pressure reduces in the cooker,remove the weight,open the lid,check the amount of liquid in the vessel(usually has 1-1/2 cup,for 2 cups of rice you need 4 cups of water,if the liquid in the cooker is 1 cup,add 1 cup of coconut milk and 2 cups of water).
10.Add the water and coconut milk mixture and allow it to boil.
11.Once the mixture boils add the rice,lemon juice and curd,mix well.
12.Close the pressure cooker lid,.once the steam comes in full speed,reduce the flame between medium and low,set the timer to 9 minutes.After nine minutes switch off the flame and add the weight.
13.Let the rice cook with weight on for another 10-15 mins.
The End you're ready to enjoy your tasty biryani 🙂