Book Review: Home Education Series:Charlotte Mason – Volume 1 – Home Education – Part 1
Volume 1 deals with educating children under the age of nine Years
In Volume 1 in the first part of the book Charlotte Mason Talks about the importance of parental responsibilities and why its important not to abdicate them.She goes on further to talk about the importance of being outdoors and the many teachable moments that become available.Finally she talks about habit training.
Charlotte Mason believed in the power of Parents and the family:
How we can harm a child when we ignore their behaviour or when we do things which we shouldn't:
Regarding Outdoors:
She placed a huge emphasis for young children to be outoors.She gives us examples of the number of things that we can learn from nature.

Regarding Habits:
In this volume Charlotte mason explains habit training in detail.It is very important to train young children in good habits and virtues from when they are very young.


She compares habits to nature.As nature follows as a set course.summer happens in summer,spring in spring.
It is very hard to eradicate or break out of bad habits once they are set.And hence the need to keep an eye on our habits.
The mark of good education is the formation of good habits.

Why do we need to monitor our habits ?Because habits rule our life in our actions( a good example would be a coffee habit) and thoughts(a good example would be certain opinions that we have).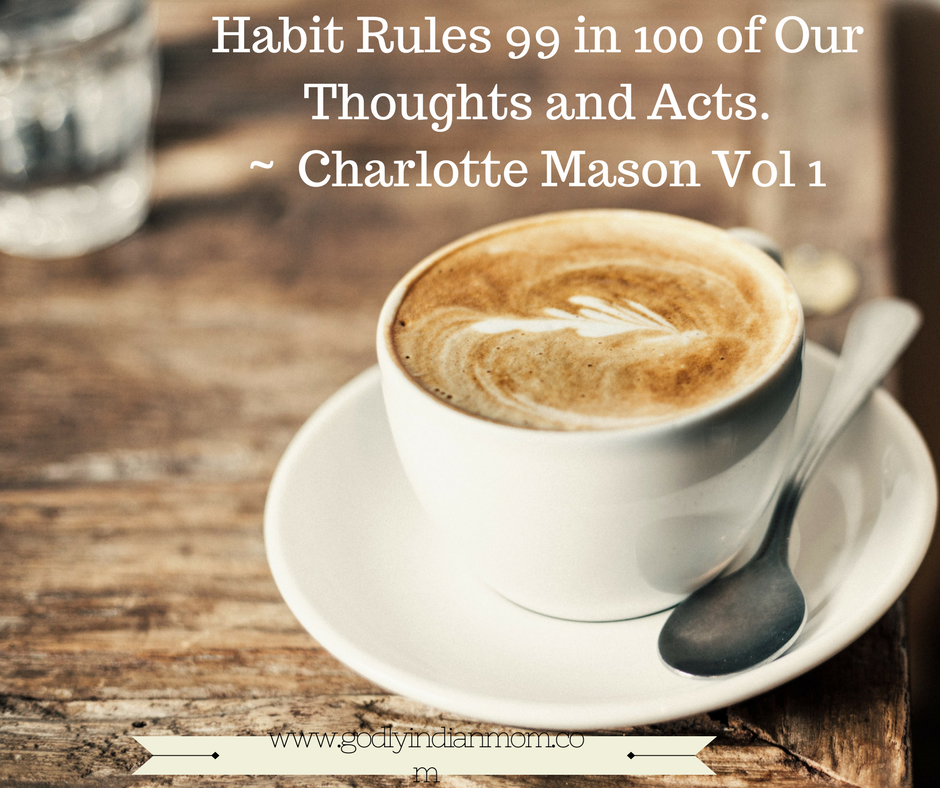 Mother's Role with regards to Habit Training:

Habit of turning out good work: