Favorite Educational Toys Part 4
As parents we want toys that can teach.The 'Favorite Educational Toys' segment is targeted towards intentional parenting.
13 Months:
Mega Building Blocks:
These are truly my son's favorite,They can keep him entertained for at least 30 minutes while I finish my cooking 🙂 .I think these are great to start kids on independent play.Also I love that we can count as we stack our blocks.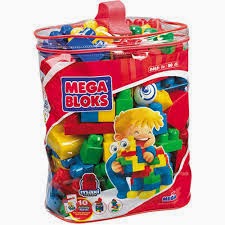 16 Months:
Fruits and Veggies Basket Toy:
This was yet another great toy.My little one is constantly on the move.So this gets him to sit and he gets to drop the fruit in the basket as we repeat the name.I was debating before I bought this one,if I had to buy a book on Fruits and Veggies or this toy,I m extremely happy to have chosen this one.Play is always an excellent educator.
I would love to hear abou your favorite toys too.Do leave a comment 🙂 !
(DISCLAIMER: This blog is not for profit. All images used are property of their respective companies unless stated otherwise. I do not claim ownership of this material. )